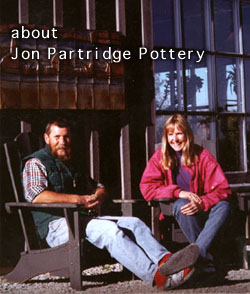 Form, function, and spirit. Every piece of pottery made by Jon Partridge bears this signature.
The work is created from a love to see it exist. It has an inner vitality, the result of a perfect marriage between the conception and its realization. It's what distinguishes the work made by this consummate potter who finds endless personal fulfillment in exploring new designs, making and finishing one-of-a-kind sculptural vessels, decorative stoneware tableware, and clay paintings entirely by his hand.
A resourceful and creative potter, Jon trained at Georgian College in Barrie, then taught pottery at Mohawk College in Hamilton before moving to Muskoka in 1974. Purchasing a neglected one hundred acre farm just outside of Bracebridge was the beginning of a dream to embrace and live the creative life.
Over the years, Jon and his wife, Suzann, have transformed the property into one of Muskoka's most popular pottery studios. The 19th century red brick farmhouse has been nurtured back to its original condition. A huge vegetable and flower garden tended by Suzann occupies the spot where a dilapidated barn once stood. Behind the house, a renovated chicken coop serves as a showroom for Jon's pottery which is made next door in his modern Gothic-gabled post and beam studio.

"I don't know why I like clay," quietly laughs the bearded potter. "However, I do like its soft, tactile quality. The only thing that holds one back in terms of what can be done is a person's own inexperience."
More than two decades as a full-time professional potter has honed Jon's skills. The forms and shapes into which the malleable clay is thrown or hand built, the clay's chemical compositions, the range of glazes, and how the work is decorated are singularly Jon's and sets his work apart from other potters. His renown for producing exceptional pottery is such that people seek out his studio from which his work is exclusively sold.
For Jon, inspiration is never far away. Sometimes, it comes from looking at the shapes of a row of mailboxes sitting at the corner of his property. At other times, one concept will develop in another. "It's how you look at things," says Jon who can see the potential for a good sculptural vessel in a gas vent pipe.
Since 1976, Jon has made his living entirely by his own hands. It's a remarkable accomplishment that's been achieved because of a dedication to a philosophy to make work he enjoys, to make it well, and to make it completely by his own hand.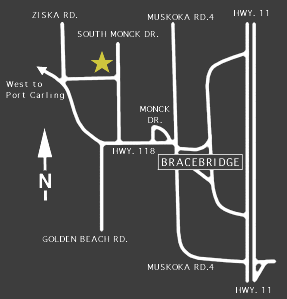 Jon Partridge Pottery Ltd. is located 2km west of Bracebridge, Ontario. From town, take Highway 118 west to South Monck Drive. Continue for two kilometers north, then turn left at Partridge Lane. The studio is the first driveway on the right. Hours are Wednesday to Saturday, from 10am until 5pm and at other times, by chance or appointment.
Jon Partridge may be contacted by telephoning (705) 645-8618 or by e-mail at pottery@muskoka.com.
Writen by Elene Freer.
The curator for Muskoka Arts and Crafts, a folklorist, and freelance writer. You can e-mail Elene at elene@muskoka.com